Whether you're planning a large company celebration, a small family celebration or a roaring wedding party, you're in the right place at the Klosterhotel Ettal. Our modern ALPENKLAUSUR rooms and traditional lounges and halls will make any celebration a unique and unforgettable experience for you and your guests.
Our team of chefs will spoil you with Bavarian delicacies, hearty meat and fish dishes from the monastery farm, vegetarian dishes, sweet desserts and exquisite cakes, tarts and strudels from our monastery patisserie. And, should you not want to go home after such a great celebration, you and your guests can spend the night in our Klosterhotel. 86 individual and lovingly decorated rooms, suites and 12 holiday apartments await you here. Get the following morning off to a relaxing start with a sumptuous breakfast!
WE LOOK FORWARD TO SEEING YOU
For your perfect celebration. We advise you on everything from room choice to menu selection, tailored to your budget and your wishes and needs.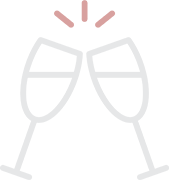 Private and business events
A place to relax. Traditional comfort. Traditional Bavarian cuisine.
Meet up with great friends in the modern Bavarian ambience of the Klosterstube.
Pure delight: enjoy centuries-old brewery culture in our brewery vault.
Imperial meals: Culinary delights in our light-flooded Kaiserstube.
Special comfort: our Kaiserstube with tiled fireplace invites you to relax.
Magnificent atmosphere: Stone pillars and coat of arms in the true spirit of a fairytale king.